| | |
| --- | --- |
| Course: | Offshore Passage Making; Norfolk to Bermuda |
| Date: | May 26-June 4, 2021 |
| Vessel: | IP40 NAVIGATOR |
| Students: | Cliff Latta, Owen Stormo, Kevin Sutherland, Michael Wade |
| First Mate: | Captain Frank Mummert |
| Captain: | Captain Tom Tursi |
4/4/2021 Sunday
We held an online crew meeting with all crew plus Rita in attendance to outline plans for the cruise from Norfolk to Bermuda in May and to review the Covid-19 regulations issued by the government of Bermuda as applied to visiting yachts and crewmembers. Being a small island group, Bermuda is very protective of its small population regarding the Covid pandemic and required the following of all crewmembers: (1) Covid vaccinations preferred, (2) Negative Covid PCR test within five days prior to departing the previous port of call before coming to Bermuda, (3) Completion of a Travel Authorization request and approval before arrival, (4) Negative Covid PCR test upon arrival and again at four and eight days after arrival, and (5) Negative Covid PCR test before departing Bermuda for the US. These administrative requirements heaped a large burden on the entire crew to ensure that we could enter Bermuda trouble free, and we needed to ensure that all crewmembers were covered.
5/9 Sunday
Two of my sons, Pete and Frank arrived onboard to help me transit NAVIGATOR down Chesapeake Bay from Rock Hall, MD to Little Creek, Norfolk, VA over the next few days. Normally, daughter Rita also joins us on this family cruise, but she was just too busy with work this year to get away so we had to do it this year without her delightful company, but she promises to make the trip next year!! We did a leisurely pace down the bay stopping for overnights at Annapolis, Solomons and Fishing Bay before arriving at Little Creek Marina on Friday, May 14th where we berthed until departure for Bermuda about ten days hence. The boys gathered up their personal gear and made plans for return home, Pete to Pennsylvania and Frank to Boston.
The next ten day will give me time to go over the entire boat and systems and procedures before my ocean crew arrives and we commence with serious crew training for the ocean passage to Bermuda.
5/24 Monday
Captain Frank Mummert, First Mate for the cruise to Bermuda and return, arrived today and we assembled our instructional plan and other details for the cruise. In particular, we mapped out a communications instructional plan where we would show/teach the various electronic communications equipment onboard including: VHF radio transceiver, SSB HF radio transceiver, IridiumGO satellite transceiver and the associated laptop computer and software, plus the Sirius XM satellite weather receiver and the NAVTEX receiver used extensively by Bermuda. In addition to these, there is also a complete suite of Garmin navigation instruments including a multi-function display (MFD) that ties together and displays the electronic charts, boat position and courses, radar, AIS, Sirius Weather, and emergency notices.
5/25 Tuesday
Student crewmembers arrived at various times in the afternoon: Cliff Latta from Florida, Owen Stormo from California, Kevin Sutherland from Georgia and Michael Wade from Seattle. They all have rooms at a local hotel for the next two days while we do inport training and pre-departure preparations and will move all of their gear aboard prior to departure, but for the time they brought aboard their sailing gear and we showed them where to stow. After a chat to get to know each other, we proceeded to inspect the boat below deck including all lockers, inventory and systems plus an introduction to the electronics previously mentioned. We then went to Bubba's Seafood Restaurant for a relaxed dinner and to get to know each other before the hard work of pre-departure training and preparations beginning at 0800 tomorrow morning.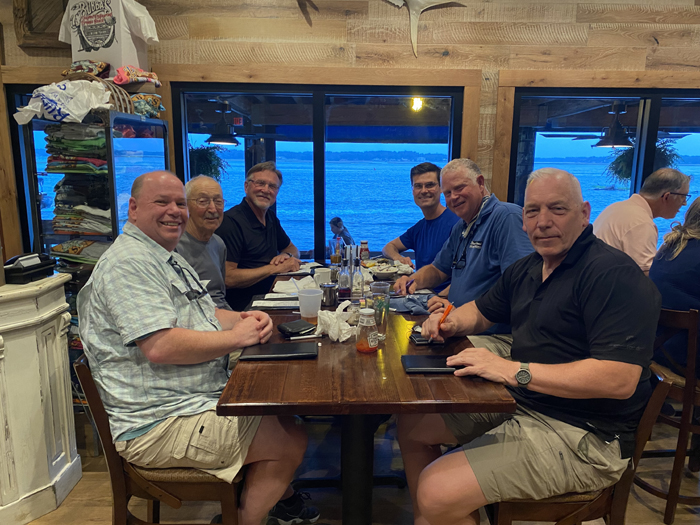 Photo Credit: Kevin Sutherland
5/26 Wednesday
Crewmembers assembled onboard at 0800 ready to go to work for this long day of boat inspections and instructions and demonstrations. We started with an inspection of all deck hardware and running rigging, steering helm and instruments, cockpit lockers, life preservers and MOB gear followed by raising and reefing the mainsail, unfurling the genoa and staysail, and deploying the whisker pole. After lunch we rigged the storm trisail and boom crutch, used when the trisail is being flown, and rigged and demonstrated sea anchor deployment and discussed MOB procedures and abandon ship procedures and assignments. This made a very full day of instruction and by 1700 we were all ready to call it a day and go to dinner, which we did at Captain Groovy's Restaurant near Little Creek.
5/27 Thursday
Our Ocean Training Cruises Preparation Guide (Blue Book) includes a series of checklists to be completed before departure by the assigned Navigator, Bos'n, Engineer and Emergency Coordinator. There are two sets of checklists: One for use during this training and inspection day, and the other to be checked on the day of departure just prior to getting underway. Assignments were: Cliff as Navigator, Mike as Bos'n, Kevin as Engineer and Owen as Emergency Coordinator, and they worked through these checklists under the guidance of First Mate Frank on this morning while Tom completed the food provisioning. This afternoon, the entire crew worked as a team preparing the navigation plan for departing the Norfolk area for sea and also the offshore navigation plan. The coastal nav plan from Little Creek to our offshore departure point ("CH" buoy just off of Cape Henry) followed the guidance provided in our video Navigation Preparations for an Advanced Coastal Cruise https://m.youtube.com/watch?v=uy6vs8FtH28 and the offshore navigation preparations followed the guidance in our Celestial Navigation for Sailors textbook.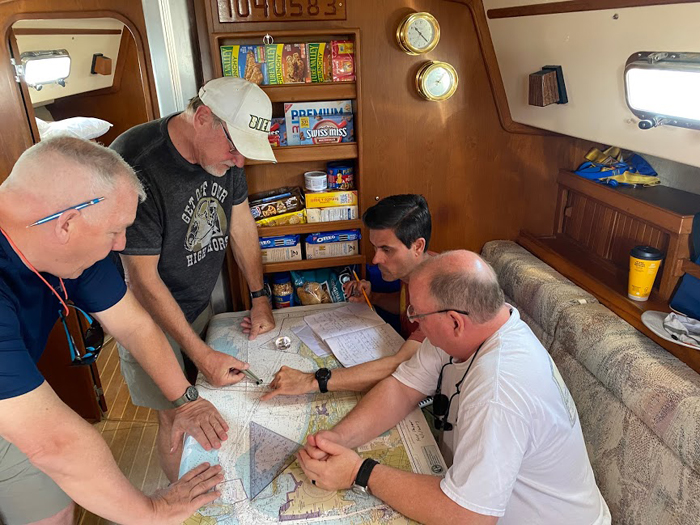 Photo Credit: Clifford Latta
5/28 Friday
Meteorologist Bradley Mabe, who is tracking weather for our cruise, sent the following forecast: "There will be a series of Low pressures that form along a front that will stall just off the Atlantic coast. Friday morning will see E to SE winds 5 to 15 knots becoming S to SE 10 to 20 knots in the afternoon. Friday night winds and seas will continue to increase 15 to 25 knots with seas 6 to 11 feet. I think the worst of it will be Saturday 5/29 mid-morning through afternoon with NE winds 25 to 30 knots and seas 6 to 11 feet."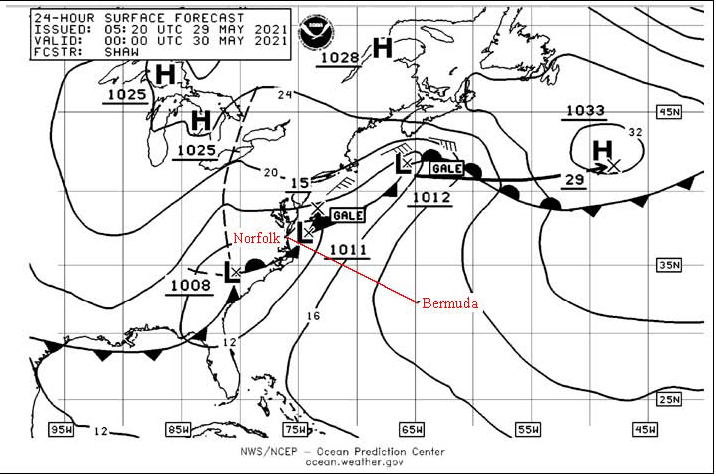 Image Credit: NOAA
We wrestled with this wind and sea forecast as to whether we should delay departure, but recognizing that this forecast was a couple of days from now, and that at this time of year there are always new Lows developing in the Cape Hatteras-Gulf Stream area we will be sailing, we decided to depart today as planned. I briefed the crew on the conditions that we were likely to encounter including high winds and seas and heavy rain, but we were well prepared and the boat too was ready, so we opted to depart today.
Our departure from Little Creek went smooth including topping the diesel tank and pumping out at Cobb's Marina. We ran into some heavy fog after passing the Chesapeake Bay bridge-tunnel, but it cleared after an hour or so. After rounding Cape Henry, we had planned to head south and pass close to Diamond shoal and Cape Hatteras, but 15-20 knot winds from south prevented that, so we opted to head east early toward BDA and the winds permitted that course.
5/29 Saturday
Position at 0750: N3624, W7407
All is well except for some slight sea sickness as to be expected during the first few days out. Beautiful sunny morning; humid; squalls passing to our north according to Sirius XM weather but we have seen none either visually or on radar. Winds 18-25 SSW. Swells 8 to 10 feet rolling in from the south apparently generated from stormy weather south of us.
Last night pleasant overnight except for very rough boat motion due to choppy, bunched up waves generated by local winds. All crew doing well and getting into the groove of hand steering a small boat at sea. We had dinner of Dinty Moore's beef stew prepared by chef Owen... Well done!
5/30 Sunday
Position at 1130: N3625, W7155
It got really nasty overnight with extensive squall areas surrounding us, rain and lightning, and seas to 12 feet, which we rode smoothly. We were proceeding under double reefed mainsail and engine power at a low 1800 rpm to maintain steering control over the waves and to position our rig for action should a squall make a direct hit on us.
At 0200, we called it a day and hove to on starboard tack with reefed mainsail and wheel lashed hard over to starboard. Boat rode nicely with a 40 to 70 degrees apparent wind angle to the wind and waves and a compass heading of 140 degrees; thus she was forereaching at 1 to 3 knots but sliding off to a course over ground of 80 degrees in a direction, but not directly, toward Bermuda, but at times like this, you take what you can get. By morning, winds increased to a consistent 30 to 40 knots SW and boat headed up further to 30 to 60 degrees apparent wind angle, which is even better thus presenting more of our bow to the wind.
At 0330 a 950 foot cargo ship 17 miles distant appeared on AIS to be headed for a half mile crossing of our bow. Owen called them on VHF radio and received assurance that they saw us and would take necessary avoidance action, which they did and passed ahead by one mile.
We plan to remain hove to until winds moderate, which is expected overnight tonight, at which point we'll resume sailing.
This has been a very rich learning experience and all crew are in good humor and are team players. We continued hove to due to strong prevailing winds and lightning squalls. Weather is supposed to clear out tomorrow morning with the cold front arrival, and we plan to return to active sailing at that point. Experimented today with sailing in these 35 knot conditions, but found it hard to maintain stable control of the boat in the large, confused waves.
Crew doing well and sea sickness seems to be abating.
5/31 Monday
YAY!! We are sailing! Everyone is in a celebratory mood now that the gale has passed, sails are up and we are making 6 to 7 knots toward destination Bermuda 388 miles distant as of 0845 this morning. Current position N3619, W7052. Skies clouded with rain about every 30 minutes to keep us on our toes.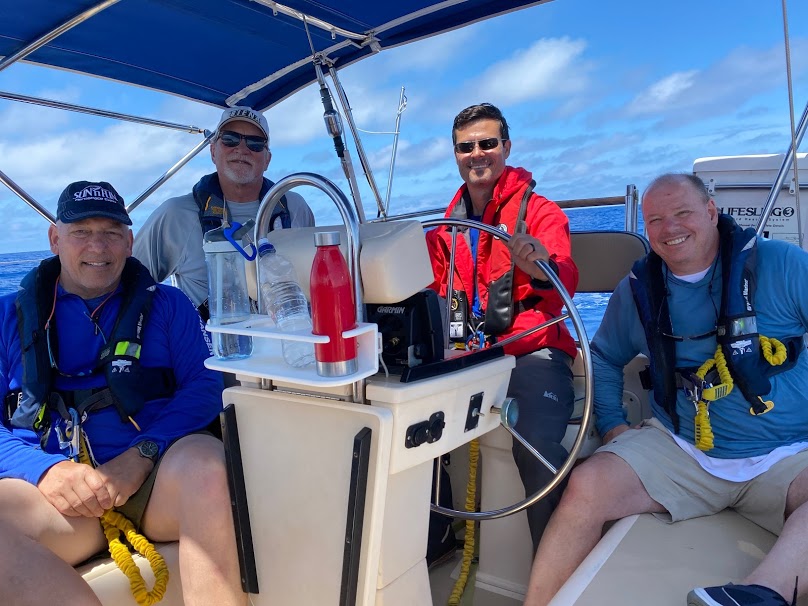 Photo Credit; Cliff Latta
Watch assignments are:
12 to 4 am and pm- Cliff and Owen
4 to 8 am and pm- Tom and Kevin
8 to 12 am and pm- Frank and Mike
Last night we had chicken stew prepped by Cliff and Owen, who do dinner prep every evening as part of their regular duties. Cleanup dinner is Frank and Mike. Previous two nights we had beef stew a la Dinty Moore, and beans and franks.
Cliff has become expert at getting weather reports using the laptop computer and Iridiun Go satellite device, and Mike and Kevin are now practicing the same. No one has yet tried using the SSB HF radio and laptop for these forecasts as the steps are a little more involved as it is older technology and less user friendly, but we will address that in future days.
Position 2030: 3543N, 7005W
6/1 Tuesday
Winds died around 0300 this morning and we have been motoring ever since in 10 knots from NW putting the wind directly behind us with five knot relative wind speed when you subtract boat speed. Seas remained very lumpy into mid afternoon making for very rolley boat motions. When it smoothed out we put up the whisker in hopes of being able to sail wing on wing with poled out genoa, but no luck in the light winds so we derigged the pole, but it was good practice and allowed us to make a few refinements to the pole procedure.
Right now we are on a course pointing directly at Bermuda and the forecast of SE 15-20 looks like we may be motoring most of the way.
Dinner tonight was chili and rice with cucumbers, yellow sweet peppers and squash cut up as a cold salad.
We're hoping for some sunshine tomorrow so we can practice celestial shots.
Overnight last night it was cloudy and threatening but we didn't get any rain or squalls. By morning, the winds went around to the northeast and we put the mainsail up at 0500 and started sailing. We're on a heading of 160M to get further south to enter the western side of Bermuda because as we look at the weather we are supposed to get some south-easterlies which would oppose us if we came in too far north.
This morning we had a session on boat safety and the training plan and this afternoon we are going to work on weather communication and also celestial navigation. We will be starting celestial navigation soon because the sun popped out in the past hour or so. It's a beautiful bright sunny day now. We have about 10-15 knots of wind from the north or northeast and we are making good progress with a full genoa. We still have the mainsail reefed because I am still concerned with the possibility of lightening squalls.
We just finished lunch and the crew are all sitting in the cockpit swapping sea stories with lots of laughs and giggles and everybody is feeling pretty good. There is no seasickness of any kind and everyone got over it and are doing well. We did a good cleanup of the boat this morning, as we did yesterday, and it's bright and sparkly down below.
Cliff is very interested in the weather communications. We have a lot of different equipment on this boat and there are different methods of downloading different information and Cliff is taking an enthusiastic interest in it. So Frank is taking each component and teaching Cliff, then he in turn is teaching other crew and in some cases they are teaching others so it is working well as a team effort.
Our distance to Bermuda is 265 nautical miles and we are averaging about 120 miles a day. Our estimate is that we will get in by midday on Friday because as we get closer the south-easterlies will slow us down.
6/2 Wednesday
Position at 1310: N3343, w6732. Winds S-SE at 5. Skies partly cloudy with cumulus. Opposing current of one knot.
Yesterday beautiful sailing conditions in 12 knots NE on course of 160M starting at 0500 and lasting all day and into early evening. Sun was out and celestial navigators practiced Sun shots working on shot accuracy exercises. Cliff had an excellent shot within 0.7 miles of our GPS position which he plotted on our navigation chart and used to plot an Estimated Position that came within 15 miles of our DR plotted position after four days that included a Gulf Stream crossing, two days of gale force+ winds, and 24 hours hove to. This was an excellent result both from a celestial shot perspective and as a demonstration of the use of DR plotting on a regular and disciplined basis. We used Cliff's EP position to correct the DR plot for continuation of our navigation plot.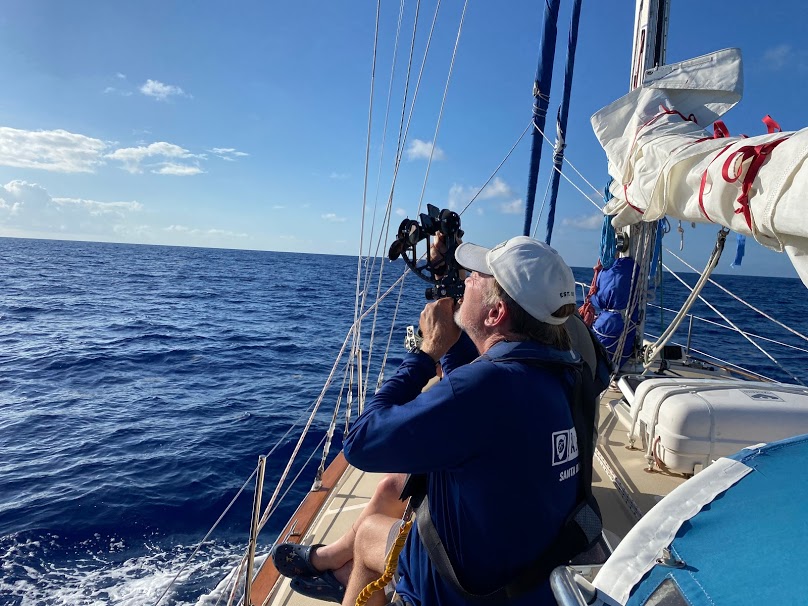 Photo Credit: Cliff Latta
At 1900 this evening, winds died completely and we furled sails, started engine to 1800 rpm, our economy speed, and set course of 128M toward our Bermuda target point; motored overnight. From the forecast of light SE winds we expect to motor the remaining distance to Bermuda.
Status 6/3 Thursday
Another beautiful sunny day with light winds from SE at 5 to 8 knots. Sailed most of the day and some motor sailing for past few hours. Wind direction will require tacking to windward the last 60 miles to get south to Bermuda, so we furled the Genoa and are motoring directly toward our target waypoint north of Bermuda.
Today Cliff, Owen and Kevin each got two good sun sights separated by four hours and plotted running fixes which were close to our indicated GPS position. This was the successful culmination of all of the theory, study and onboard, hands-on tasks of logbook data collection, celestial shot accuracy practice, sight reduction calculations, chart plotting techniques and effective use of the sextant onboard a small boat at sea.
Also, our four student ocean sailors completed all of the elements of our electronic communications program using the SSB radio, IridiumGo satellite device, VHF radio, and NAVTEX receiver.
Today we also prepared our navigation plan for entry into Bermuda, and reviewed procedures and assignments for this activity.
ETA Bermuda... sometime Friday.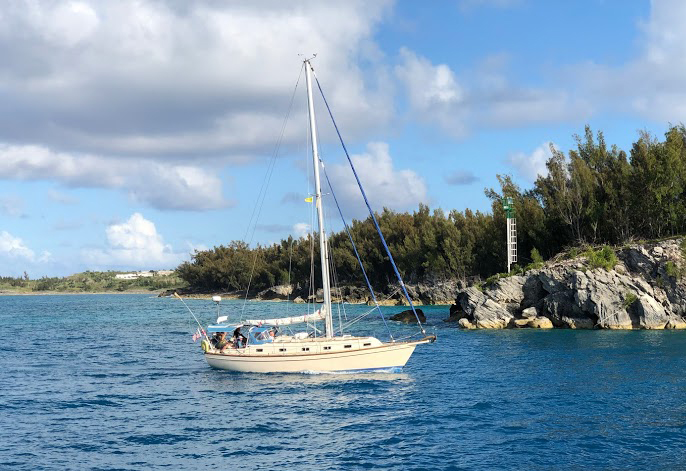 Photo Credit: Clifford Latta
6/4 Friday
We arrived in St Georges, Bermuda about 1600 EDT on Friday. Cleared Customs quickly, but the Covid health officials were tardy, not arriving to test us until 11am next day, so technically we were quarantined to the boat. This did give time for a boat cleanup below deck, none above deck due to no water supply as is the usual. I asked the Dockmaster to run a hose to refill our tank, and hopefully he will do that tomorrow. Our student crew then left the boat for their hotels and transportation home, and Frank and I began preparations to receive our return crew on Sunday. Meantime, we can relax a little and take care of some minor maintenance items and prepare our thoughts for the return cruise.
Captain Tom Tursi
St George's, Bermuda
S/V NAVIGATOR