| | |
| --- | --- |
| Course: | Offshore Passage Making; Bermuda to Norfolk |
| Date: | June 6-16, 2021 |
| Vessel: | IP40 NAVIGATOR |
| Students: | Kyle Hovatter, Karl Kuehner, Harry Nicholsen, Charles Zapf |
| First Mate: | Captain Frank Mummert |
| Captain: | Captain Tom Tursi |
6/6 Sunday
Our return crewmembers arrived on this afternoon to begin preparations for the cruise to Norfolk from Bermuda: Karl Kuehner (Houston), Kyle Hovatter (Baltimore), Harry Nicholsen (New York) and Charles Zapf (Atlanta.) We had all previously met on 4/8 in an online preparatory meeting where we discussed plans for the cruise, preparations and packing, and navigation assignments. After chatting a bit, we proceeded to inspect the boat below deck including all engineering systems, stowage and electronics after which we adjourned to the White Horse tavern for dinner. Student crew then retired to their hotel rooms for the night, and we plan to resume onboard preparatory inspections and training at 0800 tomorrow.
6/7 Monday
Crewmembers assembled onboard at 0800 ready to go to work for this long day of boat inspections and instructions and demonstrations. We started with an inspection of all deck hardware and running rigging, steering helm and instruments, cockpit lockers, life preservers and MOB gear followed by raising and reefing the mainsail, unfurling the genoa and staysail, and deploying the whisker pole. After lunch we rigged the storm trisail and boom crutch, used when the trisail is being flown, and rigged and demonstrated sea anchor deployment and discussed MOB procedures and abandon ship procedures and assignments. This made a very full day of instruction and by 1700 we were all ready to call it a day and go to dinner, which we did at the Wharf Restaurant near near Dowling's Fuel Pier.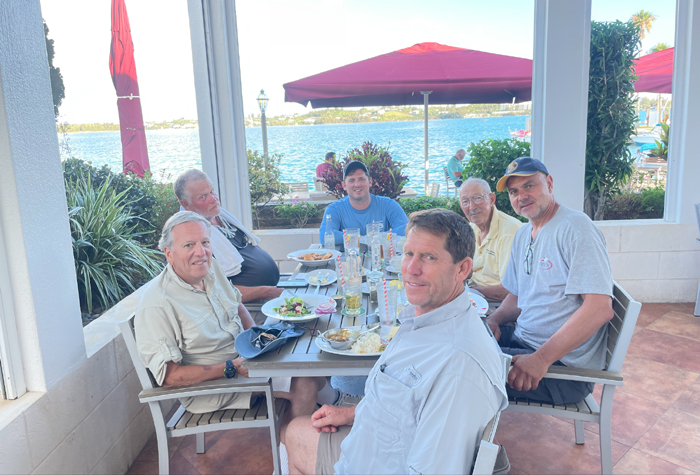 CW from lower left: Charles Zapf, Frank Mummert, Kyle Hovatter, Tom Tursi, Harry Nicholsen, Karl Kuehner
Photo Credit: Charles Zapf
6/8 Tuesday
Our Ocean Training Cruises Preparation Guide (Blue Book) includes a series of checklists to be completed before departure by the assigned Navigator, Bos'n, Engineer and Emergency Coordinator. There are two sets of checklists: One for use during this training and inspection day, and the other to be checked on the day of departure just prior to getting underway. Assignments were: Karl as Navigator, Kyle as Bos'n, Harry as Engineer and Charles as Emergency Coordinator, and they worked through these checklists under the guidance of First Mate Frank on this morning while Tom completed the food provisioning. This afternoon, the entire crew worked as a team preparing the navigation plan for departing the Bermuda area for sea and also the offshore navigation plan following the guidance provided in our video Navigation Preparations for an Advanced Coastal Cruise https://m.youtube.com/watch?v=uy6vs8FtH28 and our Celestial Navigation for Sailors textbook.
Meteorologist Bradley Mabe provided the following weather forecast for the next few days:
6/9 Wednesday- Winds S to SSW 7-12 becoming more SW at 10-15 in the evening possibility of scattered showers
6/10 Thursday- Winds SSW 10-15 in early morning becoming more WSW in the afternoon. Winds are stronger approximately 40 to 60 miles N of BDA at 15-20 knots.
6/11 Friday- Winds SW to W at 15-20. A short wave trough from the NW will bring stormy conditions. At present, the possibility of SW 25-30 across your anticipated course track. A Low-pressure system expected to form 75 miles E of the NC-VA border with movement generally ENE. Expect rain and t-storms to increase during the afternoon and evening. At this time a more southerly route looks better, but still contains rain and stormy conditions.
6/12 Saturday- Stormy conditions continue into the afternoon.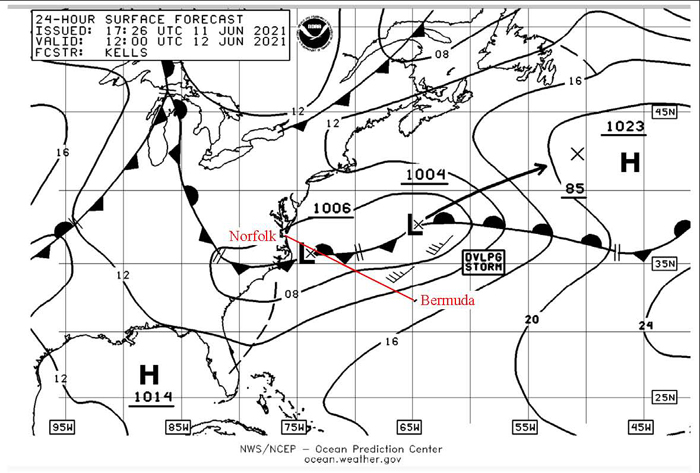 Image Credit: NOAA/NWS
6/9 Wednesday
We wrestled with this wind and sea forecast as to whether we should delay departure, but recognizing that this forecast was a couple of days from now, and that at this time of year there are always new Lows developing in the area we will be sailing, we decided to depart today as planned. I briefed the crew on the conditions that we were likely to encounter including high winds and seas and heavy rain, but we were well prepared and the boat too was ready, so we opted to depart today.
We departed Bermuda at 1030 EDT. Winds SSW at 7 knots. Today skies were overcast, gradually clearing by late afternoon. We are motorsailing close hauled with mainsail and full Genoa making 5.5 knots on a course of 295 per compass toward a waypoint located five miles SW of Diamond Shoal red buoy 12. Position at 2040: N3241, W6530. Watches are: Karl & Kyle 12 to 4; Tom & Charles 4 to 8; Frank & Harry 8 to 12 both AM and PM.
Towards evening, we passed PRIDE OF BALTIMORE heading east to Bermuda on a reciprocal to ours. Spoke to them briefly by VHF radio to establish a passing agreement, which was port to port at one mile closest point. Karl and Kyle prepared Chili and rice for first nights dinner... Delicious!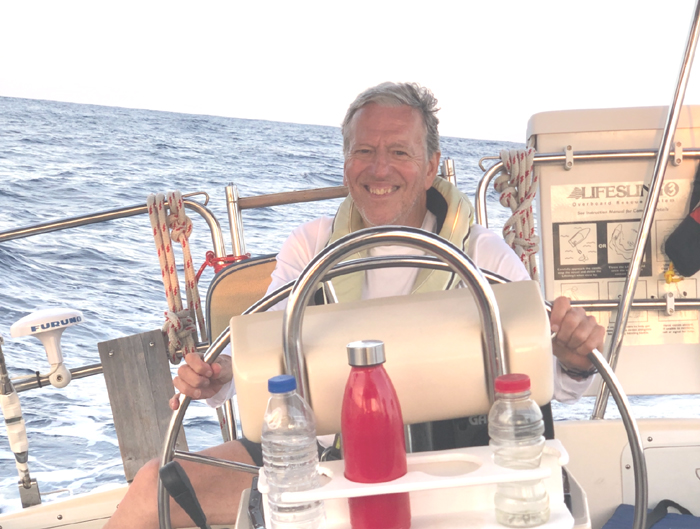 Charles Zapf
Photo Credit: Harry Nicholsen
6/10 Saturday
Overcast skies most of the day with winds SW 15-20 allowed sailing with reefed mainsail and full genoa; some rain squalls in the area but no direct hits on us. Overnight we sailed on reefed mainsail and full genoa on a course of 290 per compass averaging 5.5 knots. No rain. No lightening. Waves built to six feet from SW. Shortened genoa for a while, but then winds came up to 20 to 25. Sailing close hauled toward our waypoint SW of Diamond Shoal was hard sailing in the wave and wind conditions, and hard on the boat pounding to weather, so we elected to heave to. Kyle cooked Dinty Moore beef stew augmented with frozen veggies for dinner.
6/11 Friday
At 0845 we are still hove to on double reefed mainsail at position N3355, W6826. Rain squall passed over recently drenching everything outside and giving deck a good wash down. Winds 25 to 30 knots. We will hang out here until weather improves and wind direction is more favorable.
When hove to we are still an underway vessel and will continue with regular underway watches. Off watch crew will be working on their ASA108 onboard tasks and other lessons, including boat cleanup per First Mate Frank.
Tom cooked cheese omelets for breakfast. It occurred to me that we were a little floating island of civilization in this wild and woolly, squally seascape flipping eggs over a propane stove!!
At 1015 we secured the heave to, unfurled the staysail and sailed with reefed mainsail and staysail on a course of 310 per compass giving an apparent wind angle of 60 degrees on port tack and a modestly good angle to the approaching waves; sailing was hard with periodic boarding waves into the cockpit. Boat speed 3 knots. Hard on crew. Winds to 20-25 SW. At 1315 hove to again, this time with an improved apparent wind angle of 50 to 60 degrees and a good angle to the approaching waves. Smoother ride; easier on crew. According to weather forecasts, these conditions will last for another day or more and probably worsen by tomorrow, so I expect to remain in this position for a couple of days and will definitely be delayed arriving at Norfolk.
At 1900 wind and waves calmed a bit so we got underway again with reefed mainsail and staysail on a course of 310 degrees per compass toward Chesapeake.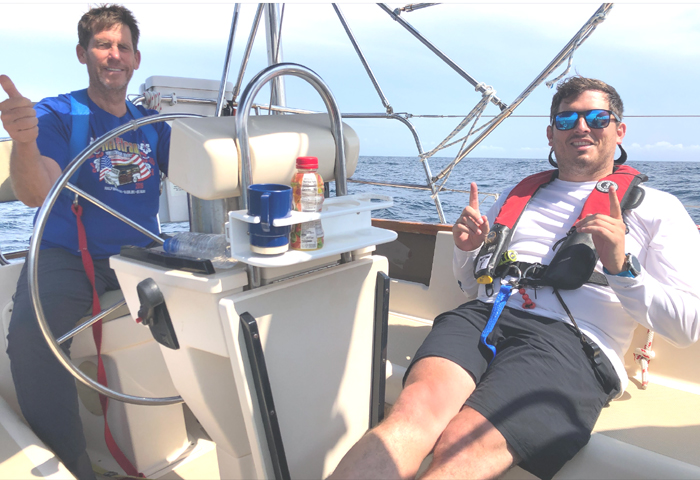 Karl & Kyle; the 12 to 4 team
Picture Credit: Harry Nicholsen
6/12 Saturday
At 0230 winds picked up and we saw an approaching squall at 9 miles distant on an intersecting course with ours. We doused the staysail and went into hove to configuration on port tack as the squall hit with torrential rain, thunder and lightning. Heavy rain and lightening continued for four hours and we were all drenched to the skin even with foulies buttoned up securely. During squall, winds blew 30 to 40 knots and veered (clocked) to 320 degrees per compass which the hove to boat followed around the circle and headed us North.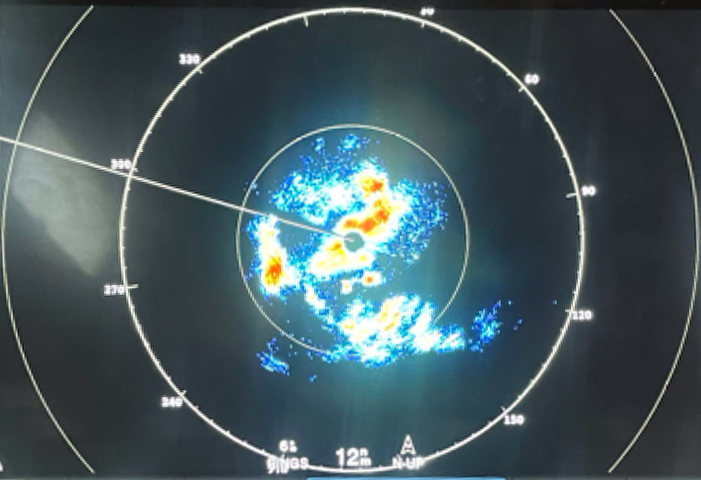 Passing squall that drenched us as shown on radar... We are at the center of this image.
Photo Credit: Charles Zapf
During the squall, Karl and Kyle spotted ship lights dimly lit through the heavy rain. Ship did not show AIS signals but did show up on radar at two miles distant. By this time we could see her both white range lights spread apart with lower light to our left view indicating the she was crossing our stern from our port to starboard side and radar showed her distance to be increasing and safely passing. At the time we thought it rather unusual that a large commercial ship was not transmitting an AIS signal.
Position at 0900: N3415, W6849. This morning, winds and waves continue as before the squall, but by 0900 clouds are thinning and the sun peeked through for a brief moment. Weather forecasting indicates that conditions will not improve significantly for the next two days, but we will sail toward Chesapeake as conditions permit. ETA currently undetermined.
6/13 Sunday
All is well. Winds have abated and we are motoring in no wind and lumpy seas, however weather forecasting continues to show new Lows developing along the stationary front extending West to East from Hatteras. Position at 0830: N3451, W6957. After noon, sailing west toward Chesapeake on ENE 20 knot winds under small sails surrounded by threatening squalls and some rain. At 1600 deployed whisker pole and sailed wing on wing with reefed mainsail and full genoa.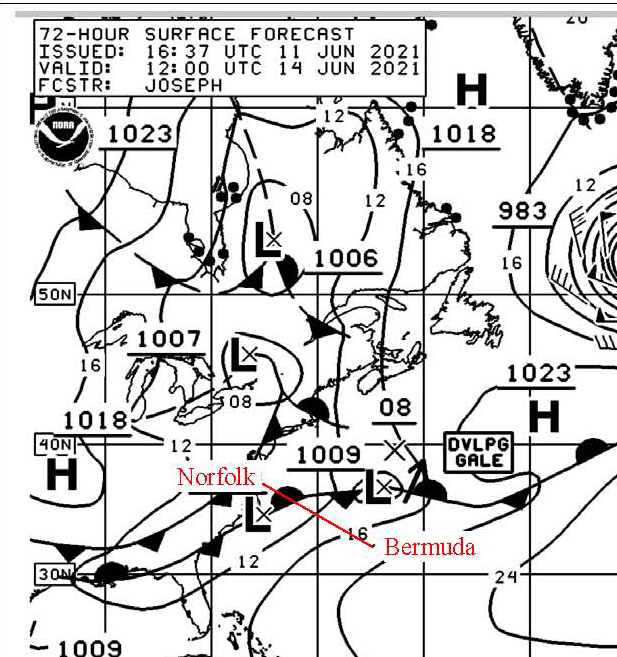 Image Credit: NOAA/NWS
6/14 Monday
Position at 0915: N3530, W7209. Sailed wing on wing with reefed mainsail and full Genoa overnight until 0800 this morning; several rain squalls overnight, but no lightning and only modest wind increase. This morning winds veered (clocked) to 150 degrees per compass, and we secured the whisker pole and gybed the mainsail to port tack and set course of 175 toward Diamond Shoal. Current is opposed and it appears that we may be bordering the Gulf Stream, although sea water temperature has not yet increased. Weather forecast suggests winds SSW 20-25 by mid-morning tomorrow with rain and t-storms likely.
Tropical Depression 2 provided a teaching moment this afternoon, appearing on the Sirius XM weather graphic about 50 miles to our SW and detailed in the NOAA bulletin as traveling NE at 18 knots to a point 100 miles to our NE thus passing over our position at about 1700 EDT.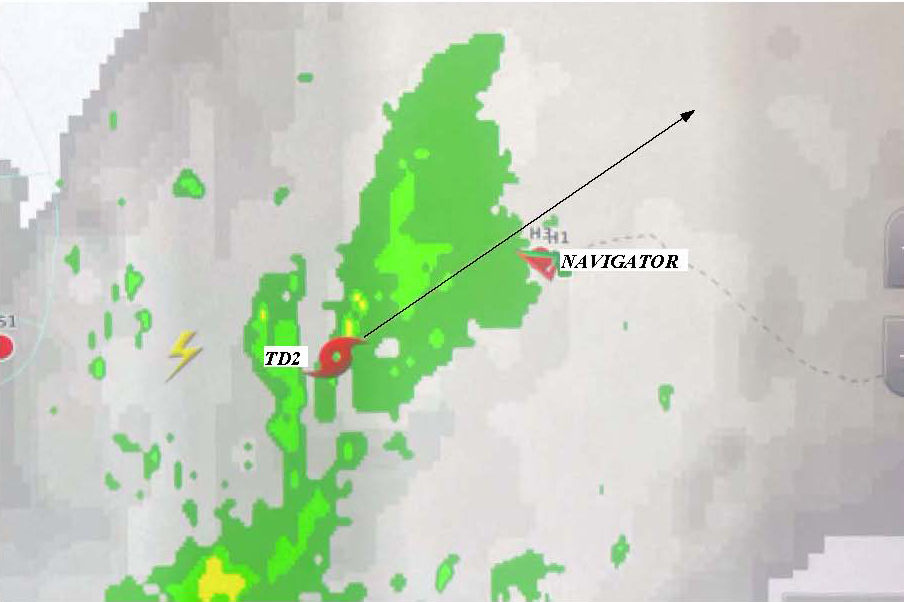 Photo Credit: Charles Zapf
We took the opportunity to plot the Position of TD2, itís forecast track, wind direction and Barometer trends to predict which side of its track we would be on as it passed. So we plotted this information on our navigation chart, and decided to make an avoidance move putting the wind on our starboard quarter and motoring at high rpm to the safe side to the left of track. I think we were directly in its path based of this analysis.
Skies were overcast with some rain followed by rapid clearing by late afternoon in time for a pleasant dinner of chicken stew in the cockpit. TD2 continued to track NE while intensifying and becoming Tropical Storm BILL by Tuesday with winds of 50+ knots but considerably away from our position.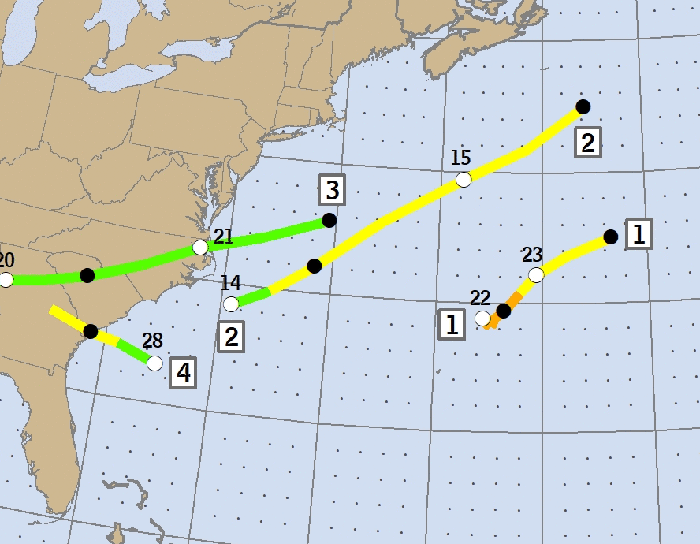 Tropical Storm BILL is shown as track #2
Image Credit: NOAA NHC
At 2015 we are now sailing pleasantly on a course of 300 degrees per compass in SW winds of 8 to 10 knots with reefed mainsail and full genoa. I'm keeping the mainsail reefed since we are going into nighttime and are surrounded by threatening storm clouds in various locations around the compass. Sea water temperature is increasing indicating that we are entering the Gulf Stream, and we were accompanied by a whale overtaking us on starboard side!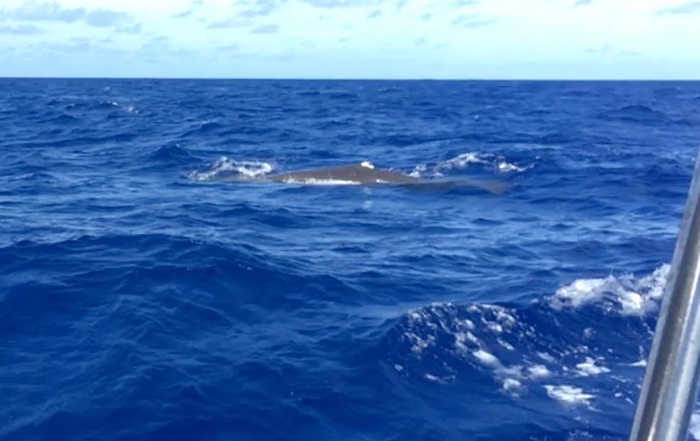 Thar she blows!!
PhotoCredit: Kyle Hovatter
6/15 Monday
Position at 1440 EDT: N3623, W7348. We have passed through the Gulf Stream; seawater temperature is 69F down from a high of 83F in the stream, and we are no longer getting a push to the NNE from the 2+ knot GS current. Winds are light from West and we're motoring at 2,000 rpm directly toward Chesapeake Bay entrance 108 miles distant. Currently do not see any weather issues confronting us.
This afternoon the crew worked as a team preparing the navigation plan for entrance to Chesapeake Bay on paper charts and entered electronic waypoints into the chart plotter.
Up to now, we sighted very few commercial ships during this passage, which is much to my liking since they always pose a danger to a small boat at sea. This afternoon we sighted another ship with a projected closest point of approach across our bow at two miles from right to left based on radar observations, but no AIS signal showing! This was the second ship that we saw with our eyes and radar, but with no AIS signal. Frank did some investigating of our AIS settings, and found that our AIS receive feature was turned off. We speculate that this was from low system voltage coupled with high current draw during an engine startup or from an accidental button push by a crewmember. In any event, Frank restarted the AIS receive function, which is vitally important to our operations to be able to see other traffic.
6/16 Tuesday
Winds continued light from SW for the remainder of the day, and we continued to motor sail toward Chesapeake Bay entrance at Cape Henry arriving there about sunset. We called the Virginia Pilots Association on VHF16, and they switched us to VHF14, to alert them that we would be crossing the Pilot Area headed to the north side of Thimble Shoal Channel to the auxiliary inbound lane and then to Little Creek Harbor. They thanked us for the alert and later called us back to precaution us of the two ships outbound in Thimble Shoal Channel and one ship inbound in the North Traffic Lanes, which would be turning to port and entering the South outbound Traffic Lanes. This last ship came into view and made a turn to port as expected and we passed comfortably, starboard to starboard, by a half mile, while at the same time keeping a cautious eye on the two ships outbound in Thimble Shoal Channel about one mile distant.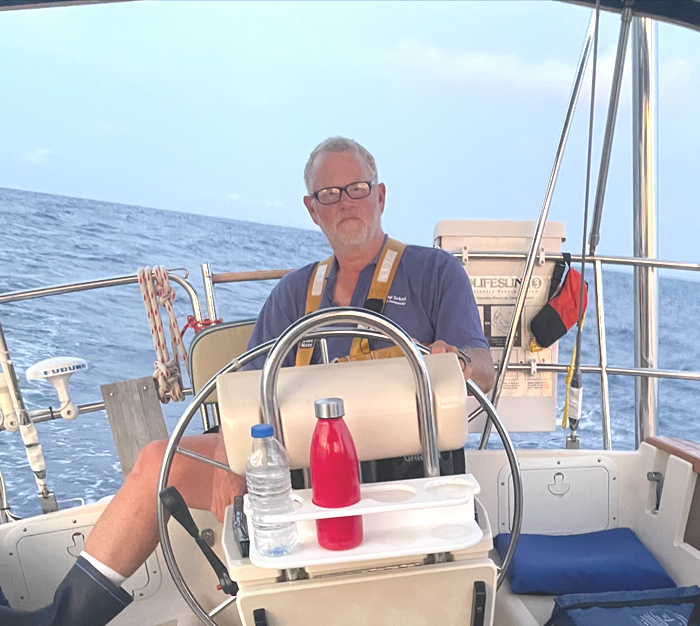 Frank Mummert
Photo Credit: Charles Zapf
We proceeded to Little Creek Harbour arriving there about 2200. Rita had previously communicated with the marina as to our assigned slip number and directions for finding it in the dark with no dockhand available, and we made a comfortable docking in the wee hours.
Before entering, I called the US Customs after hours phone number at the Norfolk International Airport to advise them of our arrival and was told to call back in the morning to another number that they gave me. So we all went to bed, exhausted and happy for the nap.
6/17 Wednesday
While awaiting the the US Customs agents, our crew turned out enthusiastically to gather up their personal gear and give the boat a good cleaning below deck and above as First Mate Frank had taught them to do during the cruise. We then presented cruise completion diplomas to all crew attesting to the route we sailed, the distance covered and the dates.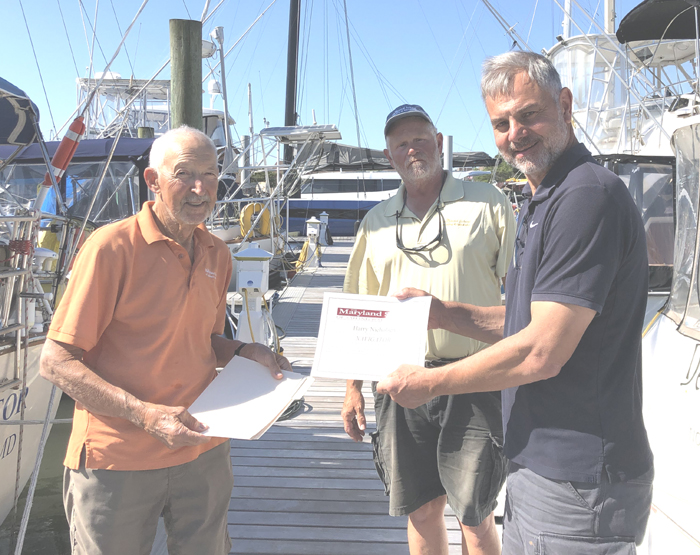 Tom Tursi, Frank Mummert, Harry Nicholsen
Photo Credit: Harry Nicholsen
At 0800, I called the US Customs daytime office, and they arranged for Customs and Immigration and Health officers to visit us at the boat, which they did by 1000 and cleared all crewmembers back into the US. But, I was also told that I had to visit the US Customs office in Norfolk to clear the boat in. I questioned that this was a new procedure not required in previous years, but was told that this was now the new procedure. So after bidding farewell to our departing crewmembers, I trundled myself down to downtown Norfolk to the US Customs office, a foreboding looking stone and marble structure dating back to the 19th Century. Inside, things were proceeding at a 19th Century pace with one clerk assisting a man clearing in a commercial ship and negotiating lots of paperwork and fees for the various cargo onboard.
While I awaited my turn, I struck up a conversation with another gentleman waiting his turn who turned out to be the Master of Pride of Baltimore also just returned from Bermuda. After he cleared in, I addressed the clerk with my ship's papers only to be told: "Oh, that was a mistake; you did not need to come here to clear in." ??? Well, that was done, but when I returned to my car I found a $35 parking ticket for an expired parking meter!!
Captain Tom Tursi
S/V NAVIGATOR
Little Creek, VA